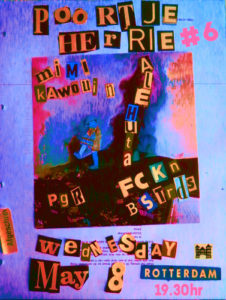 Fckn Bstrds (NL)
Fckn Bstrds, "unregulated, from Rotterdam". Music-as-noise using electronic equipment & odds-and-ends that would normally have ended up in the municipal landfill site. A total experience that you would be wise to avoid.
"Nothing can match Dutch prankster legends FCKN BSTRDS when it comes to deconstructing all time and space." The Quietus
Mimi Kawouin (Fr)
With a deep interest in raw electronics sounds, live serendipity, connexion between audio and visual, MMK is drowning audience in a chaotic textured mixture, mainly using audio feedback and primitive electronics.
https://ikiktikikipik.bandcamp.com/album/live-neura
Alahuta (Fr)
Alahuta presents a new set, 30 minutes of noise impro; a drum machine, a bass, a voice and some flash of bulbs that brings the auditor into a dark and challenging travel.
https://www.youtube.com/watch?v=qYH5uSQXdLs
PGR (It)
Inspired by the futility of the human race and the beauty of nature